The Atlas Anthem is a fanonical Mud Plugger created by The Cherrybomber appearing in MotorStorm: Return to the Wild.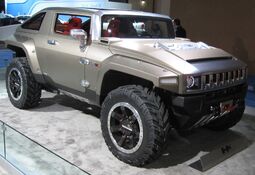 Atlas was always known for creating some of the best off roaders in American history, rivaling the likes of Monarch's Bulldog and Claymore series of vehicles, along with McQueen's Adventure. With the success of the Pacifier and the Jackhammer, both in military service and in the civilian market, Atlas wanted to create a truck that was not only capable of tackling the most brutal terrains known to man, but also be highly luxurious and stylish. The Anthem is the result.
It is powered by an alloy diesel 6.4L V8 with a 20mm compound turbocharger that produces 15 psi, causing the truck to produce a worthy 300 brake horsepower, and delivers 250 lb-ft of torque to all four wheels, while also having wide travelling independent suspension that can be calibrated to the driver's liking, utilizing a dashboard mounted 8" LCD screen. It also is known to have gullwing doors, which are opened pneumatically. The interior of the Anthem was said to be highly comforting, almost like being in a business jet but still having that sheer utilitarian vibe of Atlas' Pacifier.
When it came to the body, it was constructed with both steel and aluminum, while the interior is mainly leather with laminated and glazed wood on the door panels. The transmission was a nine speed semi automatic paddle shift gearbox, with a diff lock gear in the place of a manual transmission, despite a manual version was planned but never made it past the drawing board.
Eventually, the MotorStormers found the Anthem to be quite an interesting truck. As a consequence, about thirty of them were purchased up front and direct from the factory by Mash for use in MotorStorm, with the help of some of the 'Stormers chipping in.
The Atlas Anthem is based upon the Hummer HX Concept, except has a V8 engine installed instead of electric motors.
The default price of an Atlas Anthem is $170,000 USD.
The tail lights of the Atlas Anthem resemble the Toyota FJ Cruiser's tail lights, while the front headlights resemble a Volkswagen Race Touareg.
Community content is available under
CC-BY-SA
unless otherwise noted.